Tri-Running Sponsored Athlete Spotlight: Emma Petry
May 12, 2015
Sponsored Athlete Spotlight: Emma Petry
Everything we do as people derives from some type of inspiration. Whether a certain goal or a certain person inspires us, some sort of motivation roots all of our actions. As runners, being inspired and motivated is a key aspect to reaching goals. We at Tri-Running have the unique opportunity to be inspired by someone a little unconventional, an 11-year-old girl named Emma Petry.

Emma is a 5th grader at Lafayette Christian Academy in Lafayette, LA. What is so inspirational about an 11-year-old, you ask? She races ½ marathons...and she wins. Emma's running story began when she was just 8 years old. Her mom, Karen Nichol, was competing in a ½ marathon. Seeing her mom race made Emma think she wanted to do it, and at the 13-mile marker, Emma jumped in with her mom and ran to the finish line. She got a huge adrenaline rush, and after that moment, decided to compete in marathons herself. You can imagine the reaction her friends and family had to the idea of an 8-year-old girl at the time saying she wanted to compete in marathons. "They started freaking out. They thought I was crazy," says Emma. Emma told us that she feels her age is both a good and bad thing. She explained that the races are a bit hard on her body at times, but she usually has more energy than the adults she competes against.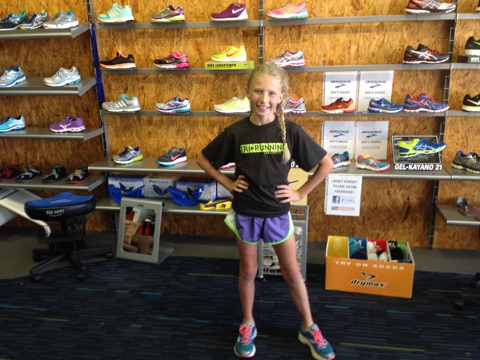 The hardest part of running in these marathons for her is the training process. Emma begins training for a ½ marathon 2-3 months prior to the race. She trains a lot with her mom's friends, Toby Lejeune and Jessica Dupin. Lejeune helps Emma with her pacing. During her training process, Emma will run 4-5 days a week. Typically, she will complete one long run for endurance training and multiple shorter runs for speed training within a training week. Emma works out with track sprinters for speed building, which she says is sometimes hard because the sprinters are so fast. The longest distance she runs before a race is 12 miles; she saves the full distance for race day. Karen, Emma's mom, says, "Emma doesn't like the training part. If every day could just be race day, she'd be content." However, Emma says that she has to "train to get better. I can't cry about it. I don't give up," a life lesson that Emma can always live by. When asked where her favorite place to run is, she responded Camellia Boulevard. "It has plenty water stops and I know the route," says Emma. "There are lots of people, it's pretty, and I like going under the tunnel."
Emma and her mom, Karen
Finally, after all of the training, Emma gets to enjoy her favorite part: race day. The morning of a race, Emma enjoys one of her favorite pre-race meals; peanut butter waffles or peanut butter sandwiches. A few days before the race, she loads up on water and carbs. Emma shared with us that she likes to run races with her Stepdad, Jefferson Nichol. "He's big and buff. I'm small. He makes me feel comfortable at the start so that I don't get trampled by the other runners." The hardest part of the actual race for this young runner is picking up her pace. What's the easiest part? The 13th mile and crossing the finish line, a task she has done incredibly well ever since her first ½ marathon in February of 2014. When asked if she has a special race day playlist, Emma told us that she doesn't like to listen to music when she runs. "I think it might distract me, or the earphones might fall out." Instead, she prefers to just let her mind wonder and think of whatever pops into her mind. She shared that sometimes she will think about Minecraft, her favorite video game. "I pretend I'm in the game when I'm racing, and I think about getting to the finish line." Emma has a little race day saying she and her mom came up with that she likes to follow, "No friends on the track, and no looking back!" Emma's mom shared the story of how this saying came to light. "For one race, a girl tripped. Emma immediately stopped running to make sure the other little girl was okay. She has a big heart and cares about everyone. So we created the saying to keep her focused on the race." Emma's response? "I was just making sure she was okay!" Emma also likes to follow the saying "Never give up. Do your best every race!" Luckily for Emma, her best just so happens to win her 1st place quite often. After Emma has crossed the finish line, she likes to celebrate by getting donuts and chocolate milk. She likes to follow that with her mom's red beans and rice or gumbo. Even while being a serious athlete, it's clear to see this girl is a true Cajun at heart.
Even inspirational people like Emma have their own inspirations. Emma's role models are Kevin Castille, Shalane Flanagan (American record holder for the 15K road race), and Meb Keflezighi (2014 Boston Marathon winner). Kevin Castille is a marathon runner himself, also sponsored by Tri-Running like Emma. He helps Emma with her training, and she truly loves and respects Kevin's opinions and always wants to make him proud of her. When asked what goals she has for herself and running, Emma shared that she wants to not only compete in, but win the Boston Marathon someday. She also wants to go to the Olympics. She shared that if she did win, she wants to give the prize money to girls in wheelchairs in order to supply them with better chairs. She would also like to donate money to the Ainsley's Angels organization. Honestly, I was incredibly moved by Emma's response. It was so amazing and touching to hear this 11-year-old girl reply with such kindness and humility. Not many kids her age would respond the way she did.
We also got to get to know Emma outside of running. She loves playing Minecraft and enjoys playing soccer. She likes making bracelets with her Rainbow Loom, and watches movies such as Pitch Perfect, Monster High, Spirit of the Marathon (part 2), and McFarland, USA. Can you guess what her favorite subject in school is? That's right, P.E. She's really excited for 6th grade P.E., because they get to run the mile then. We giggled with her about this and asked what outside of P.E. does she like, to which she responded Bible class. It was truly refreshing to see that even being such a focused runner, Emma is still an ordinary kid who enjoys normal things kids her age do.
Going into this interview, I thought I was just going to be hearing this amazing little girl's story about running. Instead, I left being truly touched by Emma Petry, who has accomplished more at her age than most can dream of. Her story is more than a girl in a race...Emma is a testament to the saying that anything is possible with hard work and dedication. Her story is remarkable, but Emma Petry, the 11-year-old marathon runner, is more than that. She is inspirational.
Look good feel good, right?